Bargeboards, soffits and fascias are an important part of the roof structure. If damaged or missing they can allow weather penetration which can have serious consequences for internal structural components and decorative finishes.
These roofing elements take the brunt of any bad weather and protect the structure from rain. It is as important to keep the soffits, fascias and bargeboards in good order as it is to maintain the roof tiles or slates themselves.
At Ray Jones Roofing we have the tools, craftsmen and experience to replace or repair soffits, fascias and bargeboards on all types of building.
Modern soffits, fascias and bargeboards are often manufactured in PVCu plastic.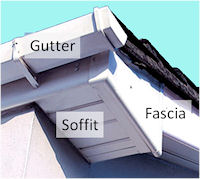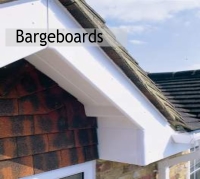 PVCu:
Does not rot or biologically decompose.
Is resistant to weathering with low maintenance requirements.
Does not need painting.
Retains its shape well.
Can be reshaped at very high temperature and can therefore be recycled.
PVCu is not only, extremely durable but available in a wide variety of profiles and colours.